Luxury Vinyl Flooring in Greenville, SC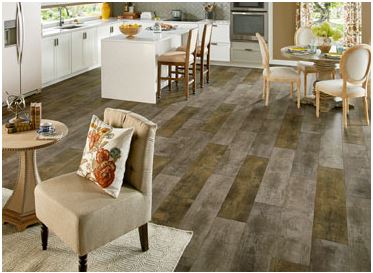 When you're renovating your home, it can be hard to know where to begin. But at our flooring showroom, you can get the help you need to make it easy. With our diverse range of flooring materials and our knowledgeable professionals, you can make a flooring purchase with confidence.
When it comes to value and resiliency, many homeowners don't consider vinyl to be a viable option. But we're here to show you just how durable and beautiful our luxury vinyl flooring in Greenville, SC, can be.
Vinyl comes in a variety of patterns, colors, and textures, which means you can get something that matches your personal style. Plus, you get all the great benefits that come with this versatile material, including the following:
Easy Maintenance
Durability
Moisture-Resistance
Beauty That Lasts
Comfort
Visit our showroom to start picking out your next luxury vinyl tile or plank floors. Our sales professionals help you narrow down the selection by getting to know your needs and pulling samples they know you'll love. Once you've narrowed it down to one or two choices, our in-house design staff helps you visualize what your new flooring will look like once it's installed.
Resilient Flooring That's Better Than You Might Remember
Vinyl has been around for decades, but today's luxury vinyl plank flooring and vinyl tile flooring is much different than in years past. Manufacturing processes have gotten better, which means the materials have gotten better as well. Enhanced beauty and resiliency is only a small part of what these floors have to offer.
One of the biggest benefits for many homeowners is the ease of maintenance vinyl provides. You don't have to worry about deep scrubbing to prevent stains. Instead, just wipe up spills as they happen and dry mop to remove dirt and dust. It's that easy.
Different luxury vinyl flooring brands have different benefits. For example, Floorcraft is known for comfort while Downs has a reputation for maintaining a high level of performance. Our staff is happy to help you find the brand and style that best addresses your needs. Start by browsing our selection of the following names:
Armstrong
Core Elements
Downs
Floorcraft
Mannington
Naturcor
Spotlight Values
PurSTONE
Mimicking Virtually Any Hard-Surfaced Flooring Material
Many homeowners choose luxury vinyl flooring because it has the ability to go in any room of the house. With its moisture-resistant qualities, these resilient floors are perfect for bathrooms, kitchens, and laundry rooms.
Fortunately, you can still get the look of hardwood or stone tile with this material. Our luxury vinyl plank flooring comes in different lengths, widths, colors, and grain patterns so you can replicate the hardwood in the rest of your home. If you'd rather have a tile look, we have you covered there too. Vinyl tile can replicate the look of stone, ceramic, or any other tile type you desire.

Contact us today to learn more about our luxury vinyl flooring. We proudly serve customers throughout Greenville, Spartanburg, Easley, and Anderson, South Carolina.