Resilient & Stylish Carpet For Any Lifestyle
As one of the most popular flooring types, carpet is well known for its soft appearance and cozy feeling underfoot. Our endless supply of carpet fibers, colors, textures, and patterns is built to withstand your household's most challenging demands. Now, you can get the luxurious carpet of your dreams and durable flooring all rolled into one when you shop our extensive carpet selection at Greer Flooring.

Known for designing beautiful carpets with high-tech flooring technology, we carry incredible carpet brands from top-quality manufacturers. Our expansive showroom in Greer, SC, houses everything from plush Saxony to natural wool in various colors and patterns. Our skilled team of flooring installers can finish the job for you with our professional carpet installation services. When you shop at Greer Flooring, your local flooring store, you get top-notch services and products that will last in your home for many years!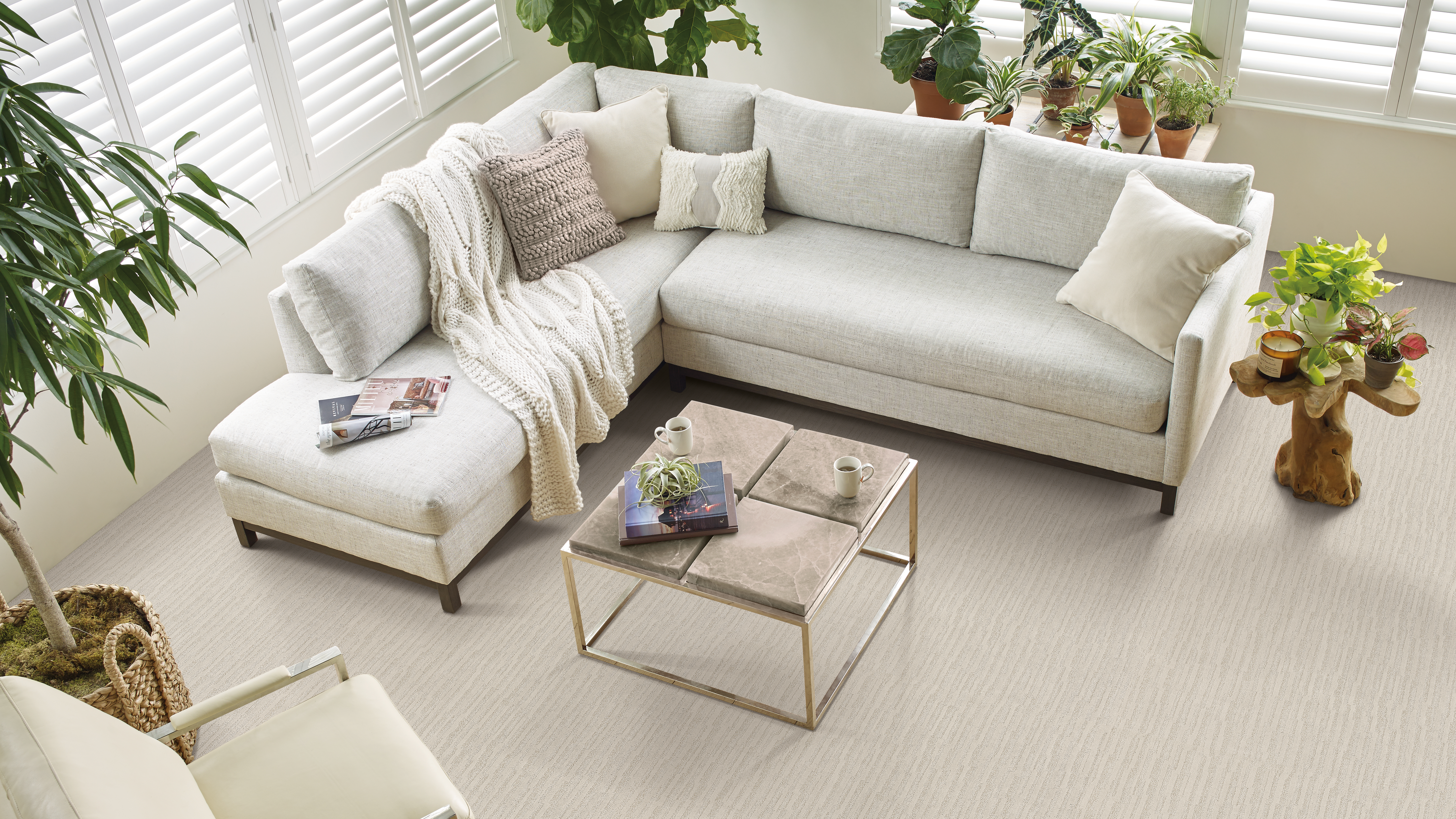 Factors To Consider When Choosing Carpet
Before you start shopping for carpets, it's essential to consider your specific needs and preferences. Here are some factors to consider:
Foot Traffic

: How much foot traffic does your home typically see? If you have kids or pets, you'll want a durable carpet that can withstand heavy use.

Budget

: Carpet prices can vary widely, so it is important to establish a budget ahead of time. Don't worry, though! Our local flooring store has carpet options for every budget.

Style

: Do you prefer a plush, cozy feel or a low-maintenance carpet? There are plenty of carpet styles to choose from, including Berber, Saxony, frieze, and more.

Color

: The color of your new carpet can impact your space's overall look and feel. Consider you're existing decor and choose a color that complements it.
Types of Durable Carpet
Whether you're looking to replace your worn-out floors or put the finishing touches on a brand-new home, our flooring experts can help guide you through the carpet selection process. Our carpet selection comes in various textures, designs, and constructions. When it comes to your South Carolina home, we have the best carpet for you and your space! Learn more about our carpet selection:
Berber

is a versatile and popular carpet that offers a soft and cushioned feel underfoot. Berber carpets are available in multi-level or level-loop piles and boast natural strength and durability, making them ideal for areas in your home with high foot traffic.

Frieze

carpets are renowned for their silky and smooth texture, plush feel, and resiliency against stains and dirt. Its knotted appearance adds depth and dimension to any room, creating a cozy and inviting atmosphere.

Loop and cut-loop

carpets offer a casual and homely look that effectively hides imprints. While loop carpets feature uncut looped fibers woven or tufted into the surface level, cut-loop carpets are made of snag-free straight, cut fibers. This makes them ideal for homes with pets and kids!

Patterned

carpets are perfect for those looking to make a bold statement. Patterned carpets add an artistic and visually striking touch to any room using a process similar to paper printing or rotary screen printing.

Saxony

carpets offer a luxurious option that adds elegance to any space. As cut-pile carpets, they are resistant to shading, wear, and traffic marks, making them a durable and long-lasting choice.
What Are The Benefits of Carpet?
South Carolina homeowners know that carpet is an excellent flooring choice for several important reasons. Let's learn more about why carpet could be the ideal choice for your home:
Carpet provides an extra layer of

insulation

to your home, which can be especially beneficial during the cooler months. The added insulation can help

keep your home warm

and

reduce your heating bills

.

Carpet helps absorb sound and

reduces noise levels

, which is especially helpful if you have young children or live in a busy neighborhood.

Carpet helps

improve indoor air quality

. Unlike hard surface flooring, carpet fibers trap dust and allergens, keeping them out of the air you breathe. Regular vacuuming and professional cleaning can help remove these particles, making carpet a healthier flooring option for your home.

Carpet is a

soft, non-slip

surface that makes it a safe flooring for kids and pets to play on.

Most carpets are treated to resist stains and soil, making them

easy to clean and maintain

.
How Do I Maintain Carpet?
While carpet is a very low-maintenance flooring, regular maintenance of your carpet is essential to keep it looking new for many years to come. Here are some essential carpet cleaning tips:
Vacuum your carpet regularly to remove dirt, dust, and debris.

Cleans spills and stains immediately after using a carpet cleaner or mild detergent and water. Blot the area to absorb the liquid.

Use a professional carpet cleaner to deep-clean your carpet at least one a year.

Avoid walking on your carpet with dirty shoes to prevent straining the fibers.

Occasionally rotate your furniture to prevent uneven wear and tear.
By following these tips, you can ensure that your carpet looks and feels great! If you have any questions about your carpet's maintenance and warranty, please contact us!
Professional Carpet Installation
You can rest assured when you rely on us to install your new carpet because our professional and trained installers will care for you and your installation. Your carpet purchase is guaranteed to look amazing with our in-home installation services, and our team of expert installers will get the job done right the first time and on your schedule. While we do all the work, all you need to do is sit back and relax. Our products are backed by some of the best warranties in the industry, including our Ultimate Confidence Guarantee. If you are unhappy with your new carpet flooring installation, call us within 30 days of your installation. We'll replace your carpet with a similar product at no additional cost.



Contact us to learn more about our carpet selection and professional installation services. We proudly serve customers in Greer, SC, and the surrounding communities.