Laminate Flooring in Greenville, SC
Are your floors outdated, damaged, or simply out of style? Find stunning new laminate flooring at Greer Flooring Center that enhances the appeal of any room. Our laminate flooring is durable, aesthetically appealing, and priced right, which allows you to expand your decorating ideas without increasing your budget or sacrificing quality!
Our local flooring store offers an incredible selection of affordable flooring options, including our long-lasting and stylish laminate wood flooring. Find exactly what you need at our fully stocked showroom with an impressive inventory. Upgrading your home's floors is a worthy investment to improve the value and style of your living space! Visit our Greenville, South Carolina, showroom today to browse our laminate products and start your renovation!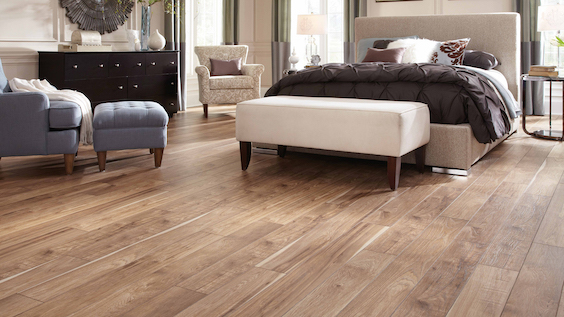 What is Laminate Flooring?
Laminate floors are high in quality and a great benefit to your home. Playing a crucial role in protecting the integrity of your flooring is their four-layered composition, which consists of:
The Wear Layer: This top layer resists moisture and protects the other layers against fading, surface burns, and stains.
The Decor Layer: This visible layer acts as the design layer and provides an aesthetic that creates beautifully replicated images of marble, ceramic, stone, porcelain, or hardwood.
The Core Layer: Providing protection against indentations and moisture, this durable, high-density board helps with water resistance and serves as the laminate's internal strength and composition.
The Back Layer: Also known as the balancing layer, this portion of laminate stabilizes the floor and protects the planks against moisture. It is the base layer that covers the subfloor.
Types of Laminate Flooring at Our Local Flooring Store
Selecting laminate floors is easy with our experienced sales team. We listen to your needs and goals to help you make the perfect laminate flooring selection for your home's style and your own personal vision. Find an impressively stocked showroom with a fantastic selection of laminate flooring brands from prominent manufacturers such as Mohawk Revwood, Mannington Restorations, Inhaus, Republic, and HF Design AquaProof. Our durable and quality laminate floors are updated every season to ensure that you will have the most diverse options and trending styles that fit modern homes. Learn more about the types of laminate flooring at our local flooring store:
Wood-Look Laminate Flooring
Laminate wood-look flooring can offer you a luxurious approach for a surprisingly low price. This is one of our most affordable options, potentially saving you hundreds, if not thousands of dollars. As well as being cost-effective, laminate wood flooring is also reliable and resilient – its durability makes it the perfect choice for high-traffic areas of your home.
Masterfully constructed and enhanced with the visual design of wood grain, each vivid swirl in laminate wood flooring gives the appearance of natural hardwood. We offer an eclectic array of uniquely crafted designs of grain style, from subtle to moderate, or prominent to match your personal taste and style!
Tile-Look Laminate Flooring
Laminate tile-look flooring is an affordable alternative to traditional tile and is also easier to install. This provides a decorative and functional option for your home while taking it easy on your budget. When you choose laminate tile flooring, you can achieve the ornamental appeal of stone, ceramic, or porcelain tile looks.
Artfully crafted patterns and colors offer a unique flooring style. Laminate tile flooring is also long-lasting with a broad spectrum of design options at affordable rates so you can find the right style for your home at the right price for your remodeling budget!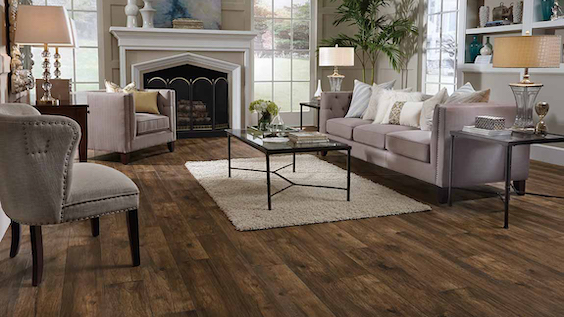 Popular Laminate Flooring Styles in South Carolina
At Greer Flooring Center, we strive to bring our South Carolina customers the latest design trends as well as a variety of timeless styles. Our customers currently love rustic wood look patterns due to their versatility in matching interior designs. Long planks are popular with cleaner, knotless styles. These planks make even the smaller rooms appear larger and work just as well in open-concept designs. No matter your vision, you'll find inspiration in our local Greenville flooring showroom.
The Many Advantages of Laminate Flooring
Laminate continues to rise in popularity as a flooring material because of its many performance and style advantages. When you choose laminate to update your Greenville property, you'll enjoy the following benefits:
Easy care and maintenance.
Kid and pet proof durability.
Resists scratches, stains, spills, and daily wear.
Water-resistant and waterproof options are available.
Quick and easy installations.
Affordable options to meet any budget needs.
Various stunning styles to choose from.
Performs well in any room of your home.
Professional Laminate Flooring Installations with Our Local Contractors
Your laminate flooring installation will be done right the first time when you rely on our dependable flooring experts to professionally install your floors. Our experienced team is a trustworthy network of qualified workers who operate our local warehouse and are ready to install your new floor. Our laminate flooring installation is accurate, efficient, and supported by industry-leading warranties!
With our Ultimate Confidence Guarantee, you can trust that you will be satisfied with your laminate flooring investment. If you find yourself unhappy with our installation job or the look of your new floor, give us a call within 30 days of installation. We will gladly replace your floor with a similar model, free of charge.
Contact us today to start your laminate flooring renovation! We proudly serve the communities of Greenville, Greer, Spartanburg, Easley, and Anderson, South Carolina, as well as the surrounding communities.