The Local Destination for Tile Flooring in Greer, SC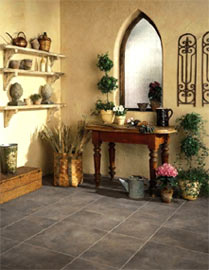 When you want sleek, modern style without a wait or a massive bill, Greer Flooring Center has an ideal solution for your situation. We offer an incredible selection of tile flooring in Greer, SC, to add character and value to your space. With our tile, you can have confidence in the appeal of your home and still make a wise financial choice.
At our showroom, our experts provide assistance for homeowners seeking the right flooring fit for their space. By providing you with professional insight, we improve the shopping experience and ensure that any purchase you make meets or exceeds your expectations after installation.
We want to be your go-to destination for tile and other flooring options in the area. Depend on us to experience the difference our selection and service can make for your project.
Ceramic Tile that Enhances Value
As an investment, tile is easy to install and less expensive up-front than other options. It also features extreme ease of use, wiping clean with minimal effort in the event of a mess. Even if your tile floors suffer unexpected damage, our products allow fast and simple repairs. An easy replacement of the damaged tiles makes the floor like new again.
Adding new tile also raises the overall value of your property, beautifying the space for today and making it a more valuable asset for tomorrow. At our showroom, we help you make the most of that value, whether you decide on ceramic or porcelain tile for your home.
Thanks to our incredible network of locally-owned flooring stores, we have everything you need to get a great initial price and long-term value on new tile floors, including:
Experience
Buying Power
Selection
Up to 25-Year Warranties
The Best Choice for Customization Control
Your life is unlike any other. You deserve to live it in a space that's just as distinct and individual as you are. Our tile makes that possible with an unparalleled range of customization options that allow you to craft a uniquely beautiful home with the selection of:
Size
Shape
Color
Texture
Pattern
Natural stone tile and other options like it even allow you to capture the beauty of some of the world's most coveted flooring materials with the ease and elegance of a more modern design. No matter what look you want, let us help you achieve it with personalized tile and expert industry insight you can only get from our professionals.

Contact us today to find tile in the right style and color for your flooring project. We proudly serve Greer, South Carolina, and the surrounding areas.